What is Ganesh Chaturthi?
Ganesh Chaturthi is a major Hindu festival widely celebrated across the Indian sub-continent, neighboring countries with a Hindu population and also by the Indian diaspora spread across the world. Also known as Vinayak Chaturthi, this festival pays tribute to theElephant headed God Lord Ganesh, the son of Lord Shiva and Goddess Parvati and the brother of Lord Murugan. It is a ten-day extravaganza which starts on the fourth day of Shukla Paksha (Waxing Moon) in the Hindu month of Bhadrapada (August–September).
It is believed that Ganesha was somehow attracted to the Chaturthi (Fourth) and hence the fast on Ganesh Chaturthi is observed on this date. The stance of the Moon on Chaturthi is not considered favorable and may induce act in a way that can hinder our progress in life. Thus, worshipping Ganesh and observing fast is recommended to overcome these adverse situations. The person observing fast on this occasion should not view this celestial body until the duration of the fast and should worship the Moon without looking at it on this day.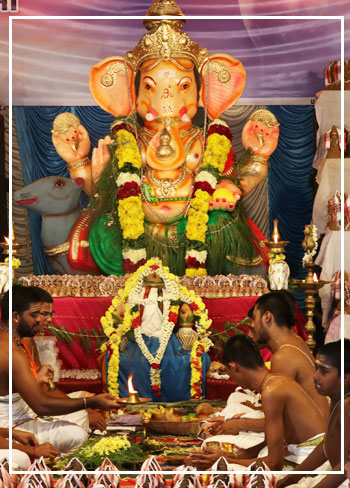 Poojas can be held in the privacy of one's home, but community Poojas are also conducted in various places, and temporary podiums with large and lavishly decorated Idols of Ganesha are erected for the duration of the festival. Many rituals with the recitation of Holy Mantras are performed to Ganesha's idol along with offerings of coconuts, sweets, flowers, and coins. Several special proceedings and prayers are also conducted during the span of the festival with each taking on a significance of its own. Many vie to outdo each other in the scale and grandeur of the festivities and host a series of social proceedings throughout the length of this ritual.
People flock in droves to the site to pay obeisance to the Deity and secure His blessings, for it is said that Lord Ganesha never disappoints those who seek His favor with clear intentions. The celebrations are held all day long with Poojas being performed to Ganesha at auspicious times, followed by free food and Prasadams being offered to the general public. Apart from this, gala events like singing and dancing, musical performances, and other activities to entertain the public are held during the festival. Many offer donations to the needy and some even organize blood donation camps and free medical checkups for all those wishing to avail the offer.
The festival culminates in the Idols being taken in a procession with dancing and distribution of Prasadam, along with bursting of firecrackers. As the procession makes way through the city, the participants revel in the festive mood all the while till they arrive at the nearest water body. There, the idols are duly sanctified by conducting special Poojas on the river banks or sea coast and then immersed with great care. Immersing the Idol is believed to remove obstacles, dissolve all problems and wipe out all our sins. This ritual is considered as a sendoff to Lord Ganesh and is observed with great devotion. People bid farewell to their beloved Lord Ganesh and await the arrival of the New Year to start the festivities all over again.
Why Is Ganesh Chaturthi Celebrated?
Ganesha Chaturthi is a momentous occasion which celebrates the birthday of the favorite God of many Indians. The entire duration of 10 days is marked by gala festivities, and people throng the venues to worship Lord Ganesha for success, prosperity, and wisdom. This is a festival that gives an opportunity for people to mingle and greet each other, with many forging new friendships and acquaintances, irrespective of caste, creed or religion.
Importance of Ganesha Chaturthi
Ganesha Chaturthi is revered as the day Lord Ganesha comes down to the earthly plane and blesses his devotees. Conducting the festival serves to strengthen unity among people and a time to forgive and forget. It also serves as the ideal occasion for people to fraternize with each other and offers an excellent opportunity for past enemies to renew their friendship.
Smashing of Coconuts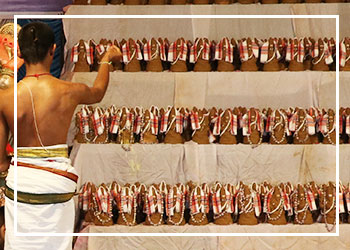 Smashing coconuts is an essential ritual in the Hindu society, and this is done on every auspicious occasion. A coconut carries immense religious significance for Indians and represents the very essence of Celestial rituals. Every aspect of this practice is considered holy and is prevalent in all religious ceremonies and other occasions, including weddings, Poojas, and even funerals. Smashing coconuts remove bad karma and drive away negative energy which creates obstacles in our lives.
Clay Ganesha
Clay Ganesha Idols are installed and worshiped with great devotion during Vinayak Chaturthi celebrations. Expert artisans carefully mold these clay Idols with great care and emphasis on the minutest detail, ensuring every facet is incorporated into the Idol. Various Poojas are performed to consecrate the Idols which breathe life into these clay models of Lord Ganesha. These divine idols are installed and revered for the duration of the festival, during which time they absorb all the bad karma and negativity. After being sanctified by Poojas, these Idols are then immersed in a water body and eventually dissolve, signifying the dissolution of our sins and negativity.