Ganesh Chaturthi Recipes
Introduction:
Lord Ganesh, who is worshipped before any other God and the favorite deity of many Indians, is known for his penchant for food. Even though he readily accepts whatever his devotees offer him, he has a weakness for certain foods like Modaks, Laddus, and Pedas. People celebrate His birthday with offerings of his favorite foods as Prasad or Bhog, so that he may partake of it in the spiritual realm. Some of the items he is particularly fond of are listed below: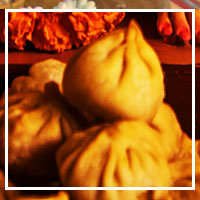 Modak- Kozhukattai:
The Modak has to figure as the all-time favorite food item of the beloved Elephant God and is made especially for his birthday. These are sweet flour dumplings stuffed with coconut, jaggery, nutmeg, and saffron. Steamed, baked or fried, these delicious balls of dough are a must for Vinayak Chaturthi celebrations. Salt Modaks are also made from black gram (lentil), which is steamed, broken, tempered with mustard seeds and then filled into rice balls. Generally, both varieties are offered to Ganesh on this auspicious day. Modaks are often offered as Prasad to all those taking part in the proceedings after the Puja is performed.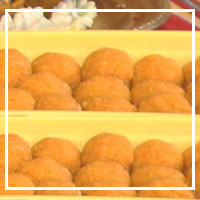 Laddus:
Laddus are small ball-shaped Indian sweets made of flour, minced dough and sugar with coconut, khoya, besan or boondi. Motichoor laddus are also very much in demand on Vinayak Chaturthi and Lord Ganesh is said to savor these delicious ball-shaped sweets cooked with ghee or oil. Offering laddus on this day is considered a must and even finds a mention in the Aarti of Lord Ganesh("ladduankabhoglage, santkarenseva"). After performing the Puja, laddus are often offered as Prasad to all those present and taking part in the proceedings.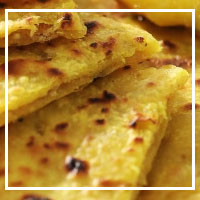 Puran Poli:
Puran Poli is a sweet flatbread and made of the yellow gram, flour, jaggery, sugar, and ghee. The Poli is the outer covering, and the Puran is the stuffing. This is a delectable sweet made especially during Vinayak Chaturthi and a favorite of Lord Ganesh. This delicious sweet is often distributed among those present and taking part in the proceedings after the Puja is performed.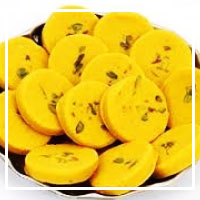 Peda:
This sweet is extremely popular across the entire length and breadth of the country. Especially popular in the northern parts, it is a traditional Indian sweet and available in several varieties. Soft and chewy, it is made of khoya, sugar and dry fruits. This delicacy is one of Lord Ganesh's favorites and a must-have for Vinayak Chaturthi celebrations. It is often distributed among the participants after performing the Ganesh Puja and savored by all.
Banana Sheera:
This is a traditional Indian sweet, very similar to the sooji (semolina) halwa but with the addition of bananas. This delicacy can be offered as Prasad for any Puja, and many people add it to their list during Vinayak Chaturthi celebrations. It is also distributed as Prasad among all those present after the conclusion of the Puja.
Basundi: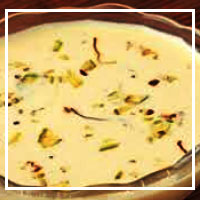 Basundi is a delicious Indian sweet which is savored by all. It is sweetened and thickened milk, with chopped nuts and flavored with cardamom and saffron. Customarily made for all auspicious and religious festivals, this is also offered to Lord Ganesh during Vinayak Chaturthi. Devotees present are often offered this delicacy as Prasad after the Puja is performed.
Coconuts, bananas, mangoes, sweet limes, pomegranate, and jackfruit are also Ganesh's favorite fruits and are kept as offerings during Vinayak Chaturthi celebrations. These fruits, along with the sweets mentioned above have traditionally been offered to the Lord and will always be provided for many more generations to come.